TAMPA SOCIAL MEDIA MARKETING & MANAGEMENT
Engage directly with their customers
Social Media Marketing & Management
Having a social media presence is more than just creating a Twitter account or publishing a Facebook company page. Social media marketing is an avenue of digital marketing that allows brands and businesses to engage directly with their customers. It is an opportunity for your company to foster meaningful touch points with your clients that resonate in the digital space.
At Absolute Marketing Solutions, all social media campaigns begin by identifying your business's particular goals and challenges, your audience, and establishing the best platforms to reach them. We then devise a social media marketing strategy to accomplish your organization's goals, whether it be to increase traffic to your website, build brand awareness, manage reviews and your reputation, or sell items directly from your social media platform.
Our Tampa Social Media Marketing Services
With over 200 social media networks currently in use, we identify the channels most likely to yield success for your company. Here are just some of the social media channels we frequently manage for our clients.
FACEBOOK
Facebook is the most popular channel with nearly 2 billion active users. It is rich with demographic information and can be a powerful medium to connect with current as well as prospective customers all over the world. Our Tampa social media marketing specialists are Facebook Blueprint certified and had experience building followers, monitoring mentions, and creating and publishing meaningful content for brands in the Tampa Bay area.
TWITTER
Depending on the nature of your business, and the goals you have in place, Twitter can be a valuable tool for communicating with your audience at lightning speeds, conveying updates and events within seconds. You can use it to interact directly with large audiences, or with a single audience member. Absolute Marketing Solutions has developed social media strategies incorporating Twitter as a tactic and building brand awareness and messaging to the Twitterverse.
INSTAGRAM
Instagram is one of the top ten most popular smartphone apps and has more than 200 million active users. Now with its integration with Facebook Ads, it is a powerful tool for delivering marketing messages to your audience in a visual manner.
LINKEDIN
LinkedIn is ideal for B2B companies, organizations looking to recruit new talents, and can help identify decision makers and prospective customers. Absolute Marketing Solutions has experience and knowledge on how to best leverage your LinkedIn efforts to maximize your social media presence.
Absolute Marketing Solutions also has expertise in leveraging Snapchat, Pinterest, Yelp, YouTube, and others. Contact our Award-Winning Tampa Social Media Marketing company to start building your strategy today.
Contact Our Social Media Marketing Team Today
Why Choose Absolute Marketing Solutions
We Deliver Results, while you can take care of other urgent matters
Give us access once, and you are ready to go.
During our first discovery meeting , our team will get the necessary access to create, manage, and scale your campaign.
Our campaign experts will guide you to success and achieve your goals. Absolute Marketing Solutions helps clients with performance-based budgeting.
Campaign and Ads that Convert
Absolute Marketing Solutions utilizes proven methods and concepts to increase your revenue
Likes Don't Determine Sales
After identifying why your customers are buying from you, our team will review all of your past digital marketing efforts and find out correlations between your sales and your previous marketing strategies. At worst case scenario when your previous marketing endeavors haven't bring any sales, our team will be ready to tackle the issue and find a solution to your problem. After all it is in our name. We are your Marketing Solution.
The Benefits of Social Media Marketing for your Business
Absolute Marketing Solutions has helped dozens of businesses and organizations develop, maintain and expand their digital presence through social media management planning and execution.
Some of the numerous benefits of implementing a social media strategy for your company include:
Increasing impressions and brand awareness
Ability to target and segment audiences into specific audience groups
Monitor brand reputation and address brand-related issues immediately
Stronger customer retention
Foster strong customer loyalty
Discover potential customers through networks of existing customers
Launch Your Social Media Marketing Campaign Today
Absolute Marketing Solution's approach to social media marketing and social media management is different than many other agencies because we take a holistic approach that considers your business' overall business goals to devise a smart strategy. We create meaningful content that offers value to your audience, backed by metric-driven reports to demonstrate how social media marketing can drive traffic and business results for your organization.
TO GET STARTED, CONTACT THE TAMPA SOCIAL MEDIA MARKETING & MANAGEMENT TEAM AT 813-908-6862.
Content Creation + Distribution
Social media allows you to educate and connect with consumers. We post with the purpose of providing value and generating positive conversation about your brand. We will work with your staff, utilize user-generated photos and create custom graphics to ensure that we have a steady stream of quality content to meet objectives across channels.
However, great content doesn't hold much value if no one reads it. That's why it is essential to develop a strong content distribution and audience identification strategy. Research and planning are the first steps in our social media marketing plan. We then use a variety of tools to deliver the content across a mix of social networks, including Facebook, Instagram, Twitter and LinkedIn. These tools allow us to deliver the right message to the right person at the right time.
Community Management + Engagement
What is community engagement? Engagement is meaningful, social dialogue. Engaging in meaningful dialogue takes time and creativity. Users can tell when they're getting the same, computer-generated responses, and it makes them feel unheard and unappreciated. We put thought into every response in order to build customer relationships. By fostering conversation, you foster trust, which results in loyal fans and customer insights.
Social media is also about turning around any negative conversations about your brand. It has never been more important to engage in active reputation management. Utilizing our reputation management system, we will ensure no review, direct message or comment goes unanswered.
To spice things up and push specific events or prominent announcements, we strategize and facilitate social media campaigns and contests. These range from community-centered brand awareness contests to influencer-partnered, product promotion campaigns. Either way, a strategy is at the heart of every campaign we create. By defining goals and tactics from the start, we can effectively measure results and ROI.
How do you know if all of this is working? Don't worry - we provide monthly reports including valuable campaign metrics and results, as well as a summary of the awesome optimizations and insights we gained from the previous month. We'll let you know which pieces of content, social channels, and paid media tactics are performing the best, how many conversions you are receiving, and what we are doing to deliver those conversions as effectively as possible. We will set you up in our marketing dashboard so you can access these metrics and results.
Social Media Marketing FAQ's:
If I have a franchise, should there be more than one account? Can you manage more than one account?
We can absolutely manage more than one account on your behalf. Depending on the social channel and number of locations, we can use individual, localized accounts or one overarching account to represent them all.
What is your content development process?
For the most effective content, it's necessary to understand your audience. That's why we start with in-depth audience research and identification. Once we understand who your audience is and what they enjoy, we can develop a brand voice that will resonate with them. The final phase of our development process includes utilizing editorial calendars to plan ahead in correspondence with local and national events. This ensures we stay relevant and ready-to-go with consistent content.
What if I'm only using one social media platform?
We can get you set up on any social media platform, but depending on your business and audience, you may not need to utilize every social media platform. We will work with you to assess which social media platforms are necessary.
Why should we choose you instead of doing it ourselves?
This answer is relatively simple: it will save you time, confusion and frustration. Our team of experts will generate creative content that will reach your audience and stop their scrolling. Not only will we post consistent, relevant content, we will also engage. Engaging with your audience means personally replying and even starting conversations of your own. We will handle your social media presence so you can focus on your restaurant's physical presence and customer experience.
How do we know if it's working?
During our initial strategic meeting, we will discuss goals and benchmarks. By setting measurable objectives from the start, we will be able to hold ourselves accountable and showcase all progress. Whether you want to increase your following, incite engagement, or gain more leads, we will transform your goals into assessable metrics. We will then give you access to our tracking platform, TapClicks, so you can see regular reports and data.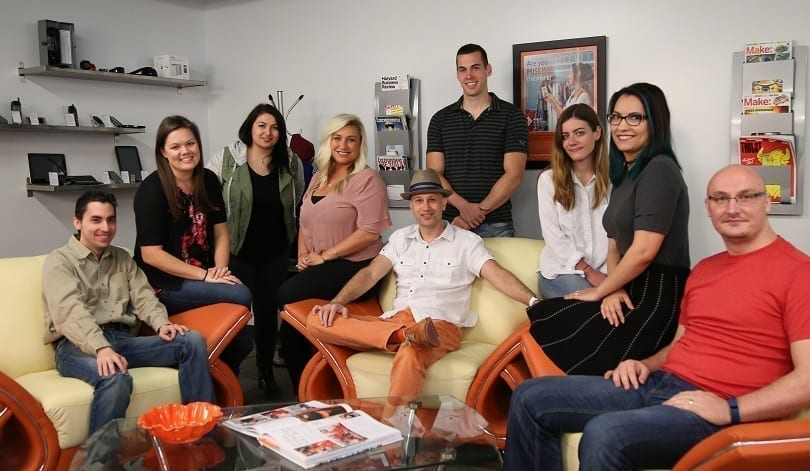 LAUNCH YOUR SOCIAL MEDIA MARKETING STRATEGY TODAY
Contact the team at Absolute Marketing Solutions today to get started on your digital marketing strategy. Gain online visibility, outrank competitors, and position your organization as an industry leader. Allow our award-winning team to build your brand by leveraging digital with best of breed solutions.